Gift Certificates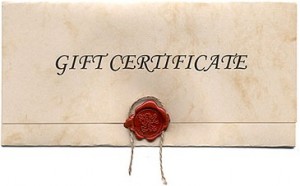 A Perfect Gift for Any Occasion
ESPECIALLY FOR THE HOLIDAYS!!
Gift Certificates can be personalized.  To see a sample Click Here: SAMPLE GIFT CERTIFICATE

Give the gift of a Psychic Reading, Chakra Balancing or Muscle Testing to your husband, wife, significant other, child or business partner…
A Reading from The Psychic Partners makes a great gift for Engagements, Weddings, Holidays, Birthdays or just to say "I Love You" or "Congratulations." Gift Certificates are available in any denomination. Upon completion of processing your order, we will immediately mail to you or your recipient(s) a personalized gift certificate, inscribed as you wish inside of a beautiful greeting card.
To request a Gift Certificate, please email us at [email protected] and let us know the following:
1. Dollar amount of the certificate
2. Name of recipient as you would like it printed
3. Recipient's address if you would like certificate mailed to him or her
4. Reason you are giving the gift (i.e. birthday, anniversary, thank you, etc.)
5. Personal message you would like printed on the Gift Certificate
6. Your name
7. Your address if you would like certificate mailed to you
8. Preferred method of payment (check, money order or credit card)
Payment:
In addition to sending your email request for a Gift Certificate, please make payment on the FEES page of this website by selecting either the service you would like to purchase as a gift, or you can request a Gift Certificate of any amount (in $5.00 increments). Just select Gift Certificates, click on add Add to Cart and choose the quantity of $5 increments that add up to the amount you want to purchase.
For example, in the Quantity column you would put 10, if you wanted to buy a Gift Certificate for $50.00.  If you have any questions, please feel free to email us at  [email protected] or you can call Loretta Vasso at (215) 692-2753.
This site is only for entertainment purposes. Information provided does not constitute legal, psychological, medical, business or financial advice. You must be 18 years or older to request a Reading from one of our Psychics or Mediums. Copyright © 2009, ThePsychicPartners.com. All Rights Reserved.